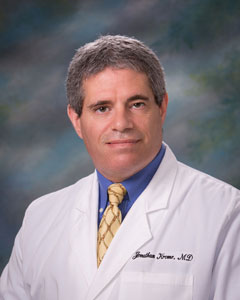 Jonathan Krome, M.D.
Dr. Krome joined the Spectrum Medical in 2004. Prior to that he was in private practice in Rome, Georgia. He received his undergraduate degree from the University of Michigan, and his medical degree from The University of Maryland. His orthopaedic training was performed at Wake Forest University/Bowman Gray School of Medicine.
Additionally, he has completed a fellowship in Sports Medicine at The Hughston Sports Medicine Foundation in Columbus, Georgia. Dr. Krome is a Board Certified orthopaedic surgeon with speciality interests in Arthroscopy, Sports Medicine and Total Joint Replacement. He is currently a member of the Arthroscopy Association of North America, the American Orthopaedic Society for Sports Medicine, and the American Academy of Orthopaedic Surgeons.
EDUCATION
B.A.(Economics) – University of Michigan, Ann Arbor, MI
Doctor of Medicine – University of Maryland School of Medicine, Baltimore, MD
MEDICAL RESIDENCY
General surgery – Bowman Gray/Baptist Hospital Medical Center, Winston-Salem, NC
Orthopedic surgery – Bowman Gray/Baptist Hospital Medical Center, Winston-Salem, NC
POSITION AND EMPLOYMENT
2011-present: Assist. Professor and Clinical Faculty Member, Dept of Surgery. Edward Via College of Osteopathic Medicine, Blacksburg, VA
2006-2011: Clinical Faculty Member, Virginia College of Osteopathic Medicine, Blacksburg, VA
2004-present: Medical Director of Athletic Training Education Program, Averett University, Danville, VA
2004-present: Orthopedic Surgeon, Spectrum Medical, Inc, Danville, VA
2004-present: Team Physician, Averett University, Danville, VA
2004-present: Team Orthopedic Surgeon, Danville Braves, Danville, VA
2004-present: Team Physician, George Washington High School, Danville, VA
1998-2004: Team Physician, Berry College, Rome, GA
1999-2004: Team Physician, Rome High School, Rome, GA