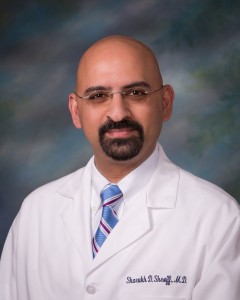 Sharukh Shroff, M.D., MPH., MBA., FACR., F.A.C.P.
Sharukh Shroff, M.D. received his Doctor of Medicine from Drexel University in 2005. He is board certified in both Internal Medicine and Rheumatology. He also did a fellowship at the University of Arizona in Integrative Medicine.  He received his Masters in Public Health from Johns Hopkins University and his Masters in Business administration from University of New Haven. He has worked in clinical trials as a medical research associate, clinical scientist and sub-Investigator since 1998 and currently is a Principal Investigator in Rheumatology clinical trials.
Dr. Shroff is Board Certified both in Rheumatology and Internal Medicine. He specializes in the treatment of rheumatoid arthritis and other diseases of the joints including osteoarthritis, gout, lupus, osteoporosis, fibromyalgia and tendonitis. Dr. Shroff comes to the Spectrum Medical from the Arthritis and Osteoporosis Center of Brooklyn, New York.
He did his Internship training at the Long Island College Hospital in Brooklyn, NY and completed his Internal Medicine residency at Drexel University College of Medicine in Philadelphia, PA. He completed his Rheumatology fellowship at the National Institutes of Health (NIH) in Bethesda, MD during which time he rotated at Johns Hopkins University Hospital and the National Naval Medical Center. He was also trained in Musculoskeletal Ultrasound at the Mayo Clinic in Rochester, MN.
He is a member of the American Medical Association, the American College of Physicians, the American College of Rheumatology and the American Institute of Ultrasound Medicine.
He believes in giving back to the community and volunteers his services at the Free Clinic in Danville, VA.
EDUCATION
Bachelor of Medicine & Bachelor of Surgery – King Edward Memorial Hospital, Bombay, India
MBA(Business Administration) – University of New Haven, West Haven, CT
MPH(Public Health) – John Hopkins University & Bloomsberg School of Hygiene & Public Health,Baltimore, MD  
Doctor of Medicine – Drexel University College of Medicine & Hahnemann University, Philadelphia, PA
MEDICAL RESIDENCY
Internal Medicine Internship – Long Island College Hospital, Brooklyn, NY
Internal Medicine Residency – Drexel University College of Medicine, Philadelphia, PA                  
Rheumatology – National Inst. of Health, National Inst. of Arthritis and Musculoskeletal & Skin Disease, Bethesda, MD
POSITION AND EMPLOYMENT
2008-present: Rheumatologist, Spectrum Medical, Inc. Danville, VA
2007-2008: Rheumatology Associate, Arthritis and Osteoporosis Center, Brooklyn, NY
1998-2002: Medical Research Associate, Bayer Corporation, West Haven, CT
1997-1998: Clinical Scientist, Wyeth-Ayerst Labs, St. Davids, PA