Functional Dry Needling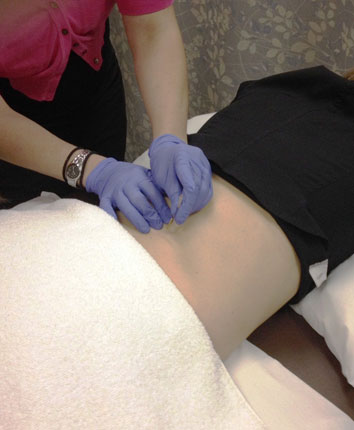 The intent of dry needling is compatible with manual therapy techniques to improve muscle function, induce relaxation and decreased pain as defined in the Guide to Physical Therapy Practice. This technique requires a written order from a physician at our facility.
This technique works in combination of a physical assessment, exercises, and hands-on mobilizations. This will require that each patient is an active participant in their own treatments. Dry needling involves placing a small needle into the muscle at the trigger point which is typically in an area which the muscle is tight and may be tender with the intent of causing the muscle to contract and then release, improving flexibility of the muscle and therefore decreasing symptoms.
There are times when Functional Dry Needling is contraindicated or not recommended:
Bleeding disorders (hemophiliacs)
Pregnancy (1st trimester)
High Dose anti-coagulants
Immune-suppressed patients – (Cancer)
Local Infection
Over joint replacement, breast implant, pacemaker or spinal stimulator
12 weeks post surgical to the area of the body that had surgery
6 weeks post surgical to a different area of the body than what you had surgery on (i.e. Knee surgery and needling to shoulder)
Common Conditions Treated
Non-Traumatic Tendonitis/Tenosynovitis
Bursitis & Capsulitis
Myofascial Pain
Movement Disorders/Dysfunctions
Fibromyalgia
Headaches
Neck & Back Pain
Plantar Fasciitis/ Achilles Tendonitis
Rotator Cuff Syndrome
Temporomandibular Joint Disorders (TMJ)
How Many Treatments are Suggested
There is no specific pre-set number of treatments for patients but typically positive results are apparent within 3-5 treatment sessions but can vary depending on the cause and duration of the symptoms, and overall health of the patient. However if at any point the patient no longer wishes to continue with dry needling therapy, this treatment will be removed from their physical therapy treatment plan.
What is a Trigger Point
A trigger point is a hyperirritable spot in the muscle that is associated with a hypersensitive palpable nodule in a taut band. The spot is tender when pressed and can give rise to characteristic referred pain and tenderness, motor dysfunction and autonomic phenomena (Travell).
Difference between Dry Needling and Acupuncture
There is a difference between the two treatments styles. Our Therapist only perform dry needling techniques. Dry Needling is not an entry level skill, it should be administered by physical therapists who have taken the necessary coursework to perform this technique.
Dry Needling treats neuro-musculoskeletal systems based on pain patterns, muscular dysfunction and other orthopedic signs and symptoms (Intra Muscular Manual Therapy)
Dry Needling depends upon physical examination and assessment to guide treatment
Acupuncture is a treatment based on eastern medical diagnosis requiring traditional Chinese medicine.
Needles are only one part of treatment for TCM practitioners and Acupuncturists: Other techniques are involved: herbs, nutrition, psychology, pulse diagnosis, etc…
Kinetacore and Functional Dry Needling (FDN) was featured on Terry Bradshaw's "The Edge". Go to Kinetacore's website and click on the video for more information on the benefits of Functional Dry Needling.