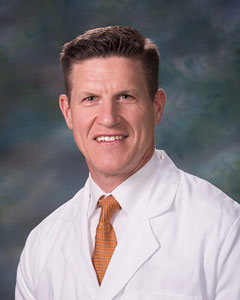 James A. Treadwell, D.O.
Dr. Treadwell is originally from the town of Naples in Upstate New York.  He attended Houghton College and medical school at Nova Southeastern University College of Osteopathic Medicine.  After graduating from medical school, he served as a U.S. Naval flight surgeon for HSC-2 helicopter squadron in Norfolk, Virginia until 2008. 
He completed his orthopaedic training at Wellspan York Hospital Orthopedic Surgery Residency in York, Pennsylvania.  Additionally, Dr. Treadwell completed fellowship training at the Carillion Orthpaedic Hand/Upper Extremity Fellowship in Roanoke, Virginia as well as the Christine M. Kleinert Hand/Microsurgery Institute Fellowship in Louisville, Kentucky.  He specializes in problems affecting the hand and upper extremity and he performs a multitude of procedures including endoscopic carpal tunnel release, arthroscopy of the wrist, elbow and shoulder, and joint replacement of the shoulder.  In the traumatic setting, he performs fracture fixation as well as tendon and nerve repair in the upper extremity.
He is a member of the American Society for Surgery of the Hand and the American Association for Hand Surgery.
EDUCATION:
B.A. (Biology) – Houghton College   1988 – 1992
Doctor of Osteopathic Medicine – Nova Southeastern University College of Osteopathic Medicine   1999 – 2003
MEDICAL RESIDENCY:
General Surgery – Naval Medical Center Portsmouth, Portsmouth, Virginia   2003 – 2004
Orthopaedic Residency – Wellspan York Hospital, York, Pennsylvania   2008 – 2012
FELLOWSHIP TRAINING:
Carillion Orthopaedic Hand and Upper Extremity – Memorial Hospital, Roanoke, Virginia 
2012 – 2013
Christine M. Kleinert Hand and Microsurgery Institute – Louisville, Kentucky 
2013 – 2014
POSITION AND EMPLOYMENT
2014 – 2017:  Orthopaedic surgeon, Sentara Southern Virginia Orthopedics, South Boston, Virginia
2004 – 2008:  Flight Surgeon, United States Navy, Norfolk, Virginia
1992-1996:  High school biology teacher, Dade Christian School, Miami, Florida